Customize your DVD
Your Kraimer Kreative DVDs come with a printed title right on the disc and on the DVD case insert. The insert also includes random screen captures from your DVD as shown.
DVD label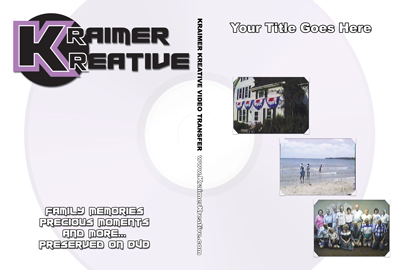 Back - DVD case insert - Front
All Kraimer Kreative video or film transfer DVDs have a generic menu with the title of your choice and chapter markers approximately every 10 minutes or at a film reel change, whichever comes first.
Customization charges below apply only to the original transfer disc. Any copy of the original will come with the customizations at no additional charge other than the cost of the copy.
Custom menu background: with a screen capture from your video or photo - $4.99/disc
Custom motion menu background: up to 5 clips from your video or photos (30 seconds max) - $9.99/disc
Custom chapter points: with or without custom chapter titles: $9.99/disc
Custom full color DVD label (includes case label): with a specific single screen capture from your video or photo that you have supplied - $9.99/disc
Add music to your film/video:
Generic instrumental from our collection - FREE
Specific music from your personal collection of purchased music and sent with your order - $2.99/track
(remember, all material you send to us is returned with your final DVDs)
Custom built website: Call for a quote, (866) 978-4860
Custom sales video presentation: Call for a quote, (866) 978-4860
Custom voice over for your video, radio or TV commercial: Call for a quote, (866) 978-4860